Bournemouth Students Become Flight Engineers for the Day in 'Flying Classroom'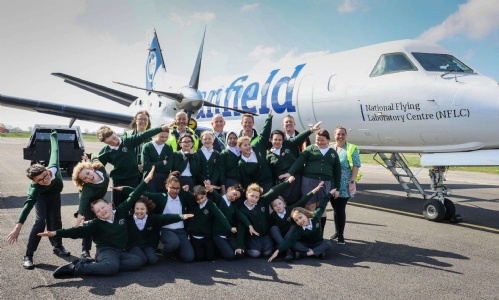 Parkfield School students spend the day learning the key skills necessary for aviation, engineering careers
On Monday 17 April, Cranfield University brought their flying classroom (a specially converted Saab 340B aircraft) to Bournemouth Airport, in preparation for a series of visits from Reach South Academy Trust students on Tuesday 18 April.
Students from Parkfield School have spent the day learning about careers in aeronautical engineering following the visit of a one-of-a-kind educational aircraft. Parkfield School, which is part of the Reach South Academy Trust, arranged for the students to spend the day at an interactive workshop designed to replicate the experience of flying a plane.
The specially adapted Saab 340B Flying Classroom and Laboratory is a unique plane which has been specially designed to educate aeronautical students. The fully-instrumented aircraft supplies passengers with real-time data on a wide range of performance parameters so that students can understand how the plane functions.
The Parkfield students started by studying the plane from the outside, while Cranfield professionals explained the practical basics around how the engines and propellers work, before touring the inside and seeing the instruments for themselves. They learnt how the instruments are designed to replicate what a pilot would see in flight, as well as watching the 'cockpit cam' which offers a view through the pilot's eyes.
See Bournemouth Echo's article here
A few lucky children were then given the chance to sit in the cockpit themselves.
Each year, more than a thousand aeronautical students, through Cranfield University, will journey on the Saab 340B to participate in the unique learning opportunity it provides. The plane was officially opened in February 2023 by the Princess Royal, who also toured the wider facilities available at Cranfield University.